Few days ago (31-01-21), Microsoft Teams team released an article gently pointing us in direction of new features and improvements in Microsoft Teams…
This is not unusual at all. The way Microsoft unassumingly, constantly make subtle improvements I find rather sweet. Almost weekly, I go through Teams settings, options, toggle bars and more often than not, like a 7 year old kid on an Easter Egg hunt, I shout with excitement saying 'found it' when a new feature presents itself in front of me.
Routinely, those changes are so subtle, almost invisible to an untrained eye, like a neighbour's new beautiful flower bed or a Low Traffic Zone put in place overnight in your street…
Whilst all the new Teams features are there for a reason, I don't perceive all of them relevant for a typical SME, so by no means I will give space to each one of them.
Instead, below is selection of those that caught my eye, those that certainly I will try using in the days to come.
So, the game began, armed with list of new features and red marker pen I went through the process of 'lets see how many I have spotted so far'
Press to Unmute
Stay muted to avoid unwanted background noise during a meeting and rapidly respond when called upon. You can now use a shortcut to unmute by holding down the Ctrl+Space keys (Windows) or Option+Space keys (macOS), then release the keys to go back to muted state again.
Mirror my video
You no longer have to see the text in your video flipped. Imagine a primary school teacher with a small whiteboard in hand, or you have a virtual background with text in it. While the meeting audience sees the text correctly, you see the text flipped. By providing you with the option to un-mirror, you will be able to see the text correctly. Simply go to your Device Settings and toggle off Mirror my video.
Custom background on web
Custom backgrounds are now available to web users. You can blur your background or select from Microsoft-provided backgrounds during your video meeting or call, making your meetings more fun and personal. Note that blurring or replacing your background may not prevent sensitive information from being visible to other people in the meeting.
Music mode for Teams
High-fidelity music mode enables Microsoft Teams users to experience richer sound experiences when sharing non-speech content such as live music, songs through other applications, or medical signals during a virtual appointment with a physician. High-fidelity music mode enables significantly improved audio quality in Teams calls and meetings. The optimized experience in Teams applies to signals captured by microphones as well as audio played while sharing an application or desktop. Learn how to experience high-fidelity audio in Teams. 
Front row (preview) layout for Microsoft Teams Rooms on Windows
Front row is a new layout for Teams Rooms, designed to enhance hybrid meetings and provide in-room participants with greater context of what is happening across various aspects of the meeting. With front row, remote attendees are seen in the room at eye level and additional meeting experiences including chat, and a rostered view of participants with raised hands, are brought to the front of room screen. Front row (preview) will be available in the layout chooser experience on the Teams Rooms console. It can also be set as the default layout or turned off altogether by device admins. Front row is available for all Teams Rooms on Windows, single and dual display modes, and across all display sizes. It's recommended you use 1080p resolution for an optimal viewing experience. This is the initial public release of front row (preview), with enhanced features to follow later this year.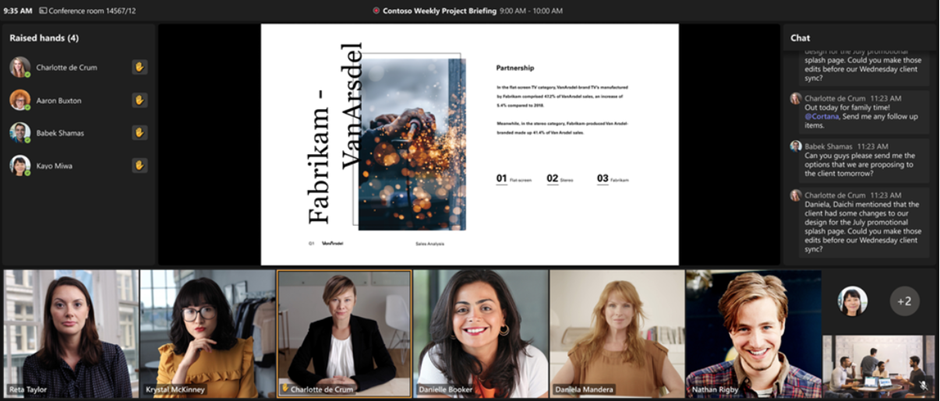 As I said earlier there is a plethora of new features and changes available with a new Teams…some of them not mentioned above are super useful for administrators and specific industries…
For the benefit of fairness, I will list them all here without going into details of what actually they do. Naturally, if more information is needed, please do not hesitate to get in touch with Purple Matrix team.
Client Updates
Isolated audio feed capabilities
Hardware-Out with AJA and Blackmagic Design Hardware
Walkie Talkie app in Teams is available on Zebra android devices and all iOS mobile devices
Reflexis Shifts connector for Teams available
Switch between multiple video cameras in Teams Rooms on Windows
Cortana updates in Teams Rooms on Windows
Cortana skills now available in additional languages
Calling app update for Teams Rooms on Windows
Meet now support for Teams Rooms on Windows
AAD conditional access support for Teams Rooms on Windows
Transcription for 1:1 Calls
VoIP and PSTN Call Recordings and Transcriptions Available in Call History
Management
Teams Meeting Recordings – Automatic Expiration
App detail page view enhancements in Teams Admin Center
Admin notifications for Custom app submissions
Scoped Teams Device Administration Role
Manage Surface hub device in Teams Admin Center
New guest user usability improvements
Purple Matrix is a Microsoft Gold Partner with 21 years of experience in cyber security and cloud technologies.
If your organisation would benefit from working with an out-of-the-box thinking IT company then get in touch!